10 Dental Office Lease Negotiation Points: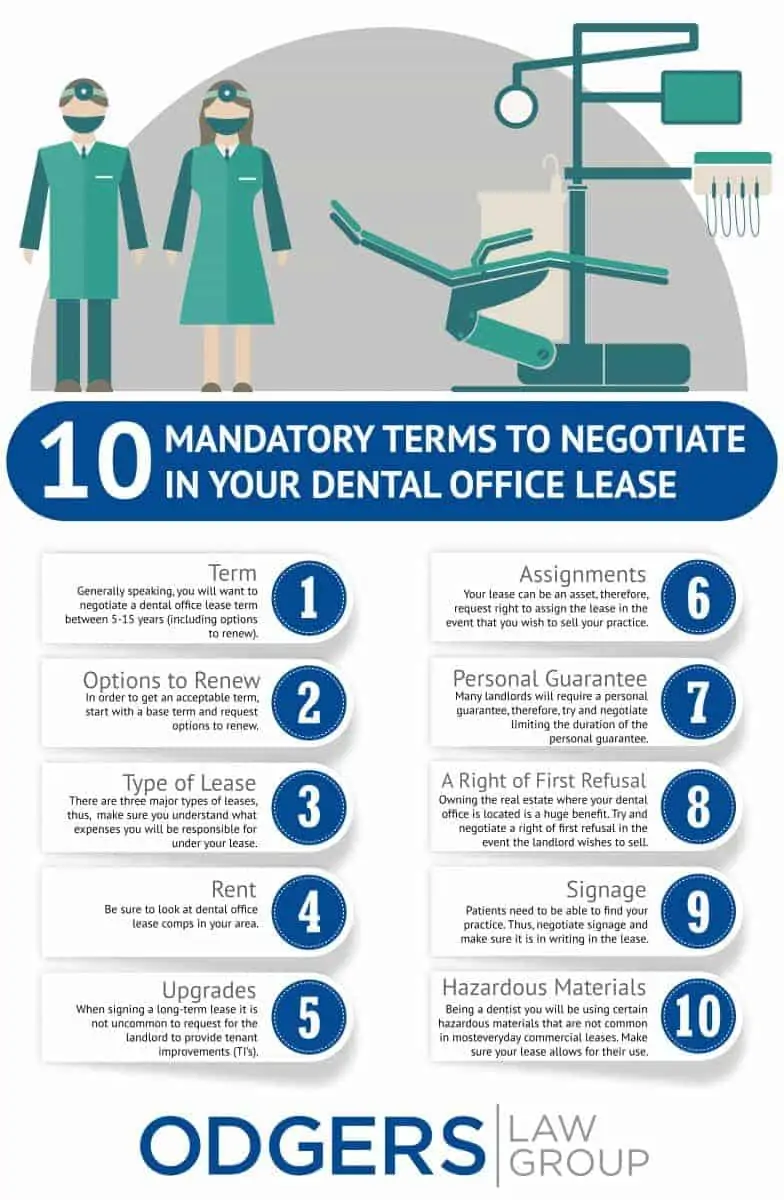 Term

: Generally speaking, you will want to negotiate a dental office lease term between 5-15 years (including options to renew).

Options to Renew

: In order to get an acceptable term,  start with a base term and request options to renew.

Type of Lease

: There are three major types of leases, thus,  make sure you understand what expenses you will be responsible for under your lease.

Rent: Be sure to look at dental office lease comps in your area.

Upgrades: When signing a long-term lease it is not uncommon to request for the landlord to provide tenant improvements (TI's).

Assignments

: Your lease can be an asset, therefore, request right to assign the lease in the event that you wish to sell your practice.

Personal Guarantee: Many landlords will require a personal guarantee, therefore, try and negotiate limiting the duration of the personal guarantee.

A Right of First Refusal: Owning the real estate where your dental office is located is a huge benefit. Try and negotiate a right of first refusal in the event the landlord wishes to sell.

Signage: Patients need to be able to find your practice. Thus, negotiate signage and make sure it is in writing in the lease.

Hazardous Materials: Being a dentist you will be using certain hazardous materials that are not common in most everyday commercial leases. Make sure your lease allows for their use.
Negotiating a suitable dental office lease is an essential process that impacts the overall value of your dental practice.
Your dental office lease sets out your rent, responsibility for upgrades and freedom to reassign the space in the event of a sale or relocation.
As a dentist, you have significant bargaining power whether you are renewing a lease or entering into a new relationship with a landlord. You do not have to accept the terms as presented, nor should you assume the landlord's broker is acting in your best interest. Work with your own representative and learn about what certain clauses mean to your practice.
Failure to negotiate your dental office lease, or a misunderstanding of key provisions, can place unwanted restrictions on your cash flow and your freedom to build out your business.
Dental Office Term of Lease
Location is an important marketing tool for your dental practice, especially if you are just getting started in the profession. The term of your lease allows you to settle into space long enough to build up a roster of clients who will use your services and recommend you to others. Additionally, it is expensive to build out a dental office. Landlords may help through TI's, however, the bulk of the expense will be covered by the leasing dentist.
If you require bank financing, your lender will require a lease of significant length before approval. Often, your lender will require the lease to coincide with the term of the loan ( 10-year loan = 10-year lease).  Most dentists seek a lease of 5 to 10 years, with one or more options to renew for subsequent terms. A 5-year lease with the option to renew for another five years, for example, would not be uncommon and would satisfy the lender's requirements.
In some cases, dentists can negotiate an option to buy in the event the landlord decides to sell. This right of first refusal may come with a fixed price attached or may be negotiated at a later date. For established dentists, owning the space frees them from many of the hassles that accompany a commercial lease arrangement.
Type of Dental Office Leases
The costs of leasing space include more than just rent. Commercial tenants often incur the taxes, maintenance, and insurance costs on their own space as well as on a portion of the common areas. Terms like "gross lease," "full-service lease," "net lease," or "pass-through lease" each refer to different monetary arrangements where you may be billed for additional costs over and above rent. Maintenance and janitorial costs are usually part of the overall expense of a lease.
Dental Office Full-Service Lease or Dental Office Gross Lease
In a full service (aka Gross Lease), the rent will cover all expenses and there will be no additional fees. The rent will include all taxes, maintenance,  insurance, and usually janitorial services.
When negotiating a Gross Lease, the tenant dentist should request that the lease specifically includes which janitorial services are offered and how often they will be provided. In addition, prior to entering into the lease, the tenant dentist should determine if there will be any additional fees for excess utility consumption.
Dental Office Net Lease
Under a dental office net lease, the tenant dentist will pay a lower base rent for the dental office. In addition to the base rent, they will be required to pay some or all of the expenses associated with the maintenance and operation of the building. These expenses sometimes include the landlord's property insurance, common area maintenance (CAMS), and real estate taxes on the building and property. CAMS often include the costs of maintaining the building, such as property management fees, sewage, trash, maintaining fire sprinklers, and janitorial services to name a few.
There are three main types of Dental Office Net Leases:
Dental Office Single Net Lease (N Lease)
Under a single net lease, the tenant dentists shall pay their base rent along with a pro-rata share of the property tax, and all 100% of their own utilities and janitorial services. In addition, under a single net lease, the landlord will cover all of the other building expenses.
Dental Office Double Net Lease (NN Lease)
Under a double net lease, the tenant dentist is responsible for their base rent along with a pro-rata share of property insurance and property taxes. Again, the tenant dentist will remain responsible for all utility and janitorial expenses. Also, under a  double net lease, the landlord will also cover all expenses for structural repairs and the above-mentioned CAMS.
Dental Office Triple Net Lease (NNN Lease)
The triple net lease (aka NNN Lease or net net net lease)  is the most common form of a lease for a free-standing office or a retail space office. It is called a triple net lease because, in addition to the base rent, the tenant dentists will pay part or all of the three nets- CAMS, property insurance, and property taxes.  As with the single net and double net leases, tenant dentists under a triple net lease pays their own utilities.
In a triple net lease, a landlord will estimate the NNN expenses and charge the tenant dentists their proportionate share. For example, if a tenant dentists were to lease a 2,500 square foot dental office in a building that was 10,000 square feet in size, the tenant dentist would be required to pay 25% of the building's CAMS, property taxes, and buildings insurance.
The base monthly rent under an NNN lease is usually lower than the other net leases because there are additional expenses. Additionally,  dental office NNN leases tend to be more landlord-friendly, so tenant dentists would work with an experienced attorney to negotiate caps on the NNN fees that can be charged annually.
Compare apples to apples
When comparing the cost of base rent for different dental offices, it is important to compare the type of leases and their total expenses and not just the base rent or cost per square foot.
Local markets will usually even out the dental office rental rates for comparable dental offices. A tenant dentist can expect to pay roughly the same amount with a net lease, full-service lease, or modified gross lease for a similar quality office lease in the same area.
[wpsm_comparison_table id="4″ class=""]
Modified Gross Net Lease
As mentioned above, net leases can be more landlord-friendly, and gross leases more tenant-friendly. A fair compromise when leasing a dental office is a modified gross lease or a modified net lease (people use both terms for the same concept). Under a modified gross lease, a tenant dentist will pay a base rent plus a proportional share of some of the additional costs associated with the property. The landlord and the tenant negotiate what those costs will be and may negotiate a set rate per year. This can help the tenant dentist with budgeting for the year's expenses, however, if the actual costs end up being lower, the tenant will be over-paying.
Dental Office Base Rent
Before agreeing to rent, do some research to see what is the standard rate per square foot in the area. If your rent is lower, it may seem like a steal, but pay close attention to fixed increases over the life of the lease. Three percent a year may be reasonable but compounded that amounts to almost 16 percent after five years over the original price. Awareness of the long-term costs of your rent will help you keep your overhead costs in check.
In the case of a dental office lease renewal, you may be able to negotiate a rent reduction, especially if the same landlord is offering breaks to new tenants. If you have a good track record, the landlord should want to negotiate, especially since getting a new tenant is more costly than continuing an existing relationship.
Dental Office Upgrades
Regular maintenance charges typically won't include upgrades to office space, such as new carpeting and paint. Additionally, the lease may require that the tenant dentist obtains approval for minor interior cosmetic updates. Even if the building is new, the decor can degrade significantly over time. As part of a dental office lease renewal, you may be able to get a commitment from the landlord to fund cosmetic renovations. Either way, review your lease to see what the terms are relating to upgrading the space. If you would like the freedom to decorate as you please, make sure there are no restrictions from the landlord.
Dental Office Assignments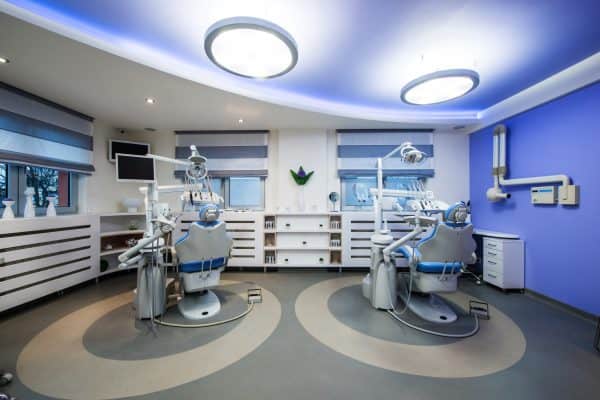 One issue often overlooked by dentists, but one that becomes very important when it comes time to sell or relocate is the ability to assign the lease.
The landlord may agree to allow the tenant to assign their dental office lease to a party who is buying the practice and taking over the dental office. More commonly, however, the landlord will make both the lease term and the options to renew personal to the current tenant, leaving open the possibility of "hardball" negotiations when the incumbent dentist wants to move on.
Landlords may insert a recapture clause. This allows immediate termination of the lease instead of approving or denying an assignment to a new tenant. Using this strong bargaining position, a landlord may ask for part of the purchase price of the business or other concessions, understanding that the buyer's bank will not approve financing without a lease in place.
In some instances, a landlord might have other plans for the dental office space. They and may not wish to extend the term of the existing lease. The commitment may simply not extend past his obligations to the current tenant. Thus, anyone buying the practice would simply have to move elsewhere.
During initial negotiations, a dentist should confirm whether there are restrictions on a future sale of the practice. The goodwill of the dental practice, a significant part of its overall assets, is often largely tied to office location.
Protect Your Interests
As with any business contract, there are a number of potential terms in a dental office to be considered. Specifically, review with care any sections that restrict your freedom or impose obligations. A prohibition on subleasing could prevent you from inviting a specialized dentist into your practice, for example.
At the same time, you should try to include clauses that explicitly protect your interest. Build-out provisions may get you reduced rent during construction. A grace period for payment of rent can prevent the termination of the agreement in the event of unexpected mishaps. You can also inquire with other landlords to see what deal they are willing to offer. This will create competition for your tenancy and strengthen your negotiation position..
Work with a dental lawyer for your Dental Office Lease
Negotiating a lease is the beginning of a long-term relationship with a landlord. The landlord's goodwill may be essential for the successful growth of your practice. In order to safeguard the best interests of your business, stay informed about your options. If you need assistance with any aspects of your dental office lease, contact a dental lawyer.