While the vast majority of dentists practice independently, that number is shrinking. Increasingly, dentists are contracting with Dental Support Organizations (DSO), Dental Management Support Organization (DMSO) or Management Support Organizations (MSOs), to handle the business of the practice while dentists focus on clinical aspects of patient care. This relatively new phenomenon has led to an influx of private investment into the business of dentistry, leading to legal and ethical questions for dental professionals and their patients.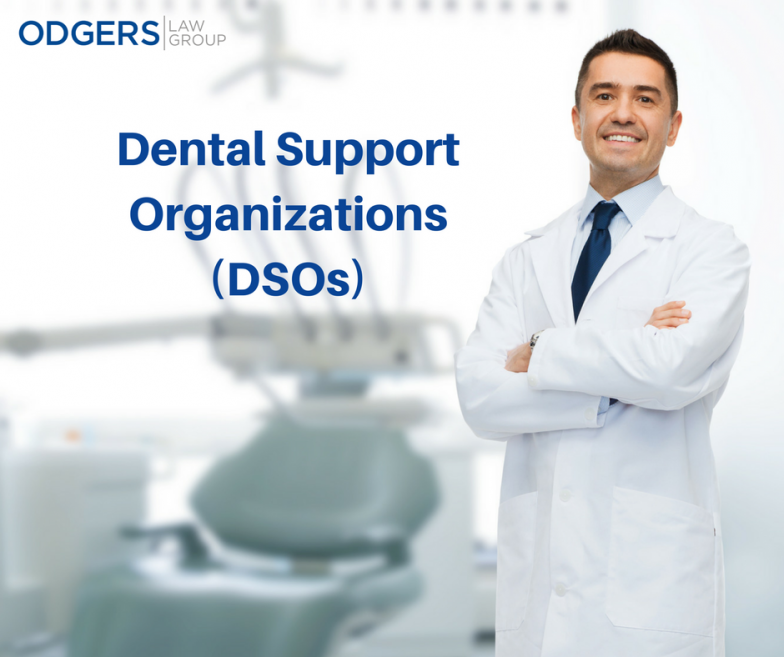 In 2013, 17 percent of the more than 3,000 corporate dental practices in the U.S. were located in California, part of an upward trend toward the corporate model of practice. The California Dental Association has compared this shift to the decline in mom-and-pop pharmacies in favor of chain drugstores over the past 50 years.
What Is a Dental Service Organization (DSO)?
A Dental Service Organization (DSO) or Management Service Organization (MSO) typically owns the assets of a practice and provides management services. They do not have any control over patient treatment. Since most states prohibit a non-dentist from owning a practice, a DSO will typically establish a professional corporation to pay dentist salaries. The corporation sets up a service agreement with the DSO that owns practice operations and collects its revenue.
DSOs emerged in the late 1980s as a new corporate model of dentistry. Its rising popularity is often attributed to rising student debt for new dentists, flat or declining practice revenues, and the economic efficiency of DSOs that benefit from large purchasing power. Younger dentists increasingly prefer to take a salary from a dental practice than hold an ownership stake. In a solo practice or partnership, dentists typically spend 60 percent of their time on patient care. That figure is 90 percent under a DSO arrangement since dentists are relieved of administrative tasks.
How Are Responsibilities Split Between the Dentist and DSO?
Because of state regulations, the DSO cannot interfere with certain activities or a court may invalidate the service agreement. In general, any action closely related to the professional practice of dentistry must be reserved for dentists. In a typical agreement, dentists are responsible for clinical activities, including:
Patient evaluation, diagnosis and treatment;
Hiring and firing of dental professionals;
Hiring, training, and supervision of dental professionals;
Patient treatment records;
Clinical protocols and quality assurance.
Apart from those activities, the DSO can handle most aspects of the business practice, including:
Financial operations, payroll, billing, tax preparation, accounting and collections;
Marketing;
Information technology;
Human resources, with the exception of hiring and firing of dental professionals;
Office management;
Risk management, legal and regulatory compliance.
State regulations do not prohibit a dentist from having responsibility for any administrative duties, although it may be prohibited under the terms of a specific DSO agreement.
Why Would Dentists Choose a DSO Model?
For many new dentists, choosing a corporate practice is an effective way to gain more hands-on patient experience while receiving a guaranteed income. In the DSO environment, younger practitioners benefit from mentorship and collaboration on patient files. Many also have greater control over their schedules, allowing a greater work-life balance while still gaining valuable career experience. The DSO model also provides greater sources of revenue by referring patients to specialists in house instead of through referral to a different practice.
DSOs typically relieve professionals from many of the headaches associated with the business of dentistry, from leasing office space and purchasing equipment to filing tax returns and administering payroll. The availability of private investment money makes it easier for dentists to handle expensive practice overhead, comply with increasing practice regulations and offer innovative services to patients.
What Are the Drawbacks of a DSO?
Typically, the fear of a DSO model has been that dentists will feel increased pressure to turn a profit and increase revenue rather than provide quality patient care. Many DSOs currently have private investment from equity firms, and at least one is publicly traded. Dentists employed by DSOs have complained of high-stress environments that prioritized profit-making, according to the CEO of the American Dental Education Association (ADEA).
Other potential downsides of the DSO model include limited practice experience. While practitioners have more time to devote to patient care, they may have to refer out more cases to specialists and receive less exposure to complex conditions. Some DSOs may in fact offer less choice of schedule than dentists can establish for themselves in an independent practice. Since the DSO takes care of the entire business side of the practice, dentists have little exposure to this side of the industry.
Is Corporate Practice of Dentistry the Future?
Few experts expect the trend toward DSO and MSO arrangements to decline because of the financial incentives and lifestyle benefits they offer to dental professionals. Richard T. Kao, DDS, PhD, cited a statistic from the Robert Wood Johnson Foundation that more than half of uninsured people don't seek out vital dental care, indicating that consumers do not choose to spend money on dentistry and new financial models are necessary.
However, according to the CEO of the ADEA, many dentists who started their practice in a DSO environment left after a relatively short tenure, indicating an intention to set up or join a private practice. Even if the DSO model is seen as just a starting point for many young dentists, it may increasingly saturate the industry marketplace. If you have any questions on setting up or joining a DSO or MSO it is wise to consult an experienced dental attorney.